We are pleased to announce the beta availability of our latest product; Cyotek Palette Editor. This tool allows you to create and maintain color palettes in a variety of formats, and can either be used as a standalone tool, or as companion tool for Cyotek Gif Animator or other image editors.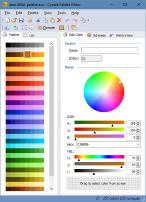 The editor allows you to work with palettes in JASC, Gimp and Adobe Color File formats to name a few. You can create palettes manually, or use helper tools to import palettes from other files or even generate them from images. You can also use the editor to batch convert palettes from one format to another.
Cyotek Palette Editor is available for free download. If you find any bugs or have any suggestions please feel free to contact us.