Cyotek Color Palette Editor
Cyotek Color Palette Editor Colour palette editing made easy
Cyotek Palette Editor allows you to create and work with colour palettes, in a variety of formats such as JASC, GIMP and Adobe Color. Palettes can be created from scratch, imported from other palettes or created from images and can be edited with ease.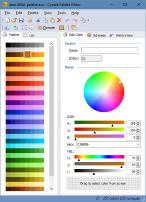 Cyotek Palette Editor is available for free. If you find any bugs or have any suggestions please feel free to contact us.
This product is in beta status and as such is provided "as-is". This software may contain bugs or function unexpectedly.
Download
Download current and archived versions of Cyotek Color Palette Editor
Download
Minimum Requirements
Windows 10, 8.1, 8, 7, Vista, 2003, XP
10MB of available hard disk space