Cyotek Color Palette Editor
Cyotek Color Palette Editor Color palette editing made easy
Cyotek Palette Editor allows you to create and work with colour palettes, in a variety of formats such as JASC, GIMP and Adobe Photoshop. Palettes can be created from scratch, imported from other palettes or created from images. Easy editing is provided using RGB or HSL color spaces, although palettes using CMYK can also be opened. Palettes can be converted between formats (including batch conversion), or swatch images exported.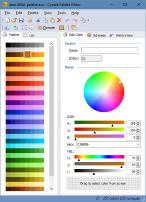 Cyotek Palette Editor is available for free. If you find any bugs or have any suggestions please feel free to contact us.
Download
Download current and archived versions of Cyotek Color Palette Editor
Download
Minimum Requirements
Windows 10, 8.1, 8, 7, Vista SP2
20MB of available hard disk space
Donate
This software may be used free of charge, but as with all free software there are costs involved to develop and maintain.
If this site or its services have saved you time, please consider a donation to help with running costs and timely updates.
Donate