Jewel Rush
Jewel Rush An old school arcade experiance
Jewel Rush is a classic arcade game where the player has to explore dangerous caves, solving puzzles and collecting enough diamonds to reveal the exit. Various hazards including rockfalls and indigenous creatures exist to hamper the players efforts. Solve the puzzles, collect the gems and escape before time runs out!
Screenshots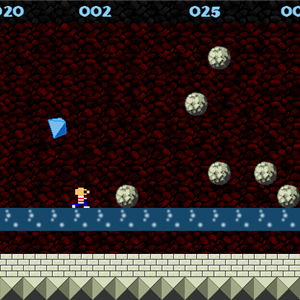 Rocks... and diamonds!
Here the player needs to dodge falling rocks and diamonds, and still collect diamonds before they sink into the slime!
Videos
Download
Download current and archived versions of Jewel Rush
Download
Minimum Requirements
Windows 10, 8.1, 8, 7, Vista, 2003, XP
OpenAL (Optional, but no audio will be available if not installed)
OpenGL compatible graphics card
10MB of available hard disk space
Donate
This software may be used free of charge, but as with all free software there are costs involved to develop and maintain.
If this site or its services have saved you time, please consider a donation to help with running costs and timely updates.
Donate