Cyotek NBT Editor
Cyotek NBT Editor Simple to use NBT editor
The Named Binary Tag (NBT) format, created by Notch for use with Minecraft, is a versatile format that can be used to store structured and accessible data. Cyotek's NBT Editor is an easy to use editor for any* NBT document regardless of it was created by Minecraft, or other applications such as WebCopy.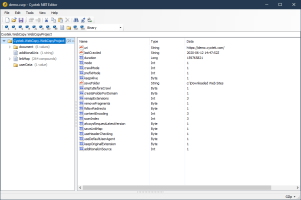 Originally developed as an internal tool after we migrated WebCopy and Sitemap Creator to use NBT over the existing slow XML files, it is now being released publically.
* Note that this editor currently does not support encoding varieties of Bedrock files. It also only opens stand-alone NBT documents and therefore does not support Anvil or Region files.
Are there any features you feel the editor could benefit from? Let us know!
Download
Download current and archived versions of Cyotek NBT Editor
Download
Minimum Requirements
Windows 10, 8.1, 8, 7, Vista SP2
3 MiB of available hard disk space
Donate
This software may be used free of charge, but as with all free software there are costs involved to develop and maintain.
If this site or its services have saved you time, please consider a donation to help with running costs and timely updates.
Donate