Tutorial 1: Creating a new project
Tutorial 1: Creating a new project Create sprite sheets and dynamic text effects for HTML, games, toolstrips, and more
In this first tutorial, we'll cover creating a new project, adding images to it and modifying the layout, then finally saving the project.
Creating the new project
Select New from the File menu, or press Control+N
An empty project will be created with everything set to default values
Adding images
There are numerous ways to add images to a project, but for now we'll stick with the simplest. From the Project menu, select Add Images, or press Control+I
When the file dialog appears, navigate to the samples folder of your Spriter installation (typically C:\Users\<username>\AppData\local\cyotek\ spriter \sample or C:\Documents and Settings\<username>\Application Data\cyotek\ spriter ), and select all images in that folder.
You should now have something approximating the image below: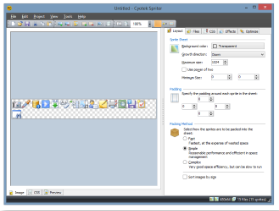 Applying padding
Most settings can be left at default values. However, if you want to add padding around the sprites, try changing the values in the Padding group.
Choosing a packing method
Spriter also allows you to a choose a packing method, which determines how the sprites are laid out in the output sprite sheet. Try changing to Complex to see how the layout changes. Which method you use depends on your project size and how you like the graphics positioned.
Saving the new project
Select Save from the File menu, or press Control+S
Enter a file name for your project and click Save
See Also
Step by step guides
The original location of this content can be found here.
Download
Download current and archived versions of Cyotek Spriter
Download
Minimum Requirements
Windows 10, 8.1, 8, 7, Vista SP2
20MB of available hard disk space
Donate
This software may be used free of charge, but as with all free software there are costs involved to develop and maintain.
If this site or its services have saved you time, please consider a donation to help with running costs and timely updates.
Donate